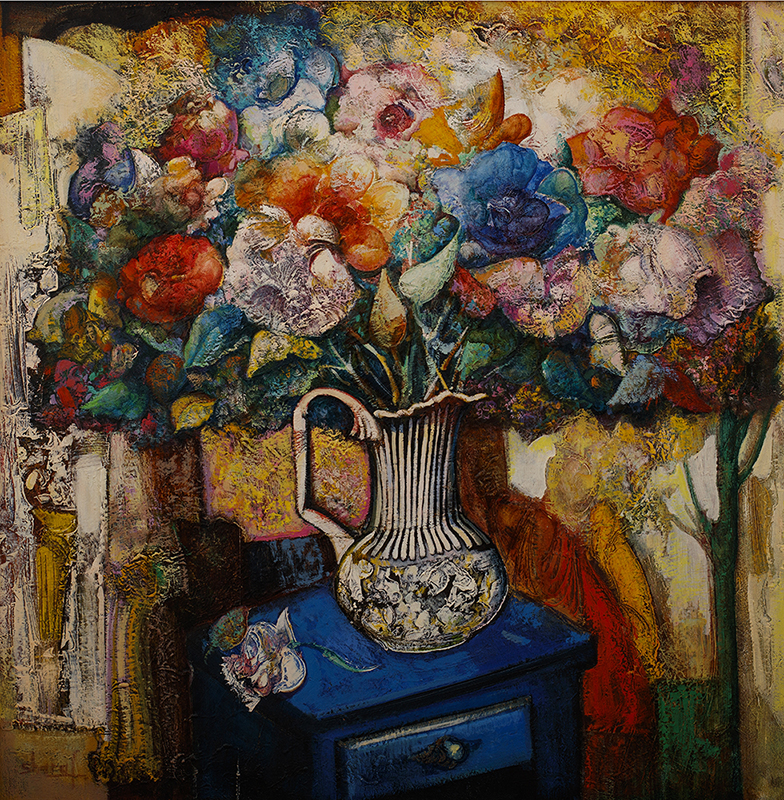 ֏ 988 000 / $2000 / € 1710
My trees (series)
oil on paper, 70x70 cm
Arthur Sharafyan (Born 1972)
Graduated from State Academy of Fine Arts of Armenia in 1997. Member of Artists' Union of Armenia since 1999.
Arthur Sharafyan's works are displayed in Armenia, France, Spain, USA, China, and held in private collections.
Arthur Sharafyan is a masterful colorist – his gentle palette appears on the canvas with great harmony. In his paintings, Sharafyan refrains from any kind of aggression, violence or crudity. His art is inspired by reminiscences of theatrical performances, colorful stages and mysterious depth of side-scenes. Like the symbolists, Sharafyan tells us stories of old closed doors, lonely and pensive women, objects of everyday life surrounded with shroud of beautiful sorrow. 
---
Selected Exhibitions
1996 – "Chis" Gallery, Murcia, Spain
1999 – "Cinema and Theatre" international exhibition, Yerevan
2002 – International Youth Festival and Exhibition, Moscow, Russia
2004 – Art Expo Caucasus, Tbilisi, Georgia
2005 - «Cite de Art», Paris, France
2007 – "Colors of Armenia", Embassy of Italy, Yerevan
2012 – Gallery of Artists' Union of Russia, Moscow, Russia
2018 – "Armenian Contemporary Art" exhibition, Minsk, Belarus
2019 – "Symphony of Color", Kuwait
2020 – "Spring Saloon 2020", Artists' Union of Armenia, Yerevan